I have completed the scanning! Wahoo!
Days working: 9
Average hours/day: 14
Total images scanned: 5779!!
Loaded CDs: 20
Est total number of negative strips (the scanner takes one strip at a time: 1646
Est money saved over have Target do this: $400!!!
I am so psyched! I have loaded the CDs onto an external hard drive. I am now in the process of moving images from the scattered and out of order CDs into folders that make sense to me. I have moved the OVER FIVE THOUSAND images into folders, and will be starting to load the CDs of digital images I already have into these same folders. (Right now the CDs I had done already are in chronological order, and I want to rearrange the images into folders that match the album categories I use now. Go NOW to read
The Big Picture, by Stacy Julian
. Seriously. Drop what you are doing and go GET.THIS.BOOK.AND.READ.IT. if you scrapbook. Or want to.)
Here's a little something I found...granted, the negatives are quite damaged, but still...Joe and I ready for his Senior Prom. Yep, that's white tails he has on. And I have VERY 1981 hair, complete with big bushy on one side, the other side pulled up tight in a barette with dangling feathers and beads on it! And yes, we are high school sweethearts!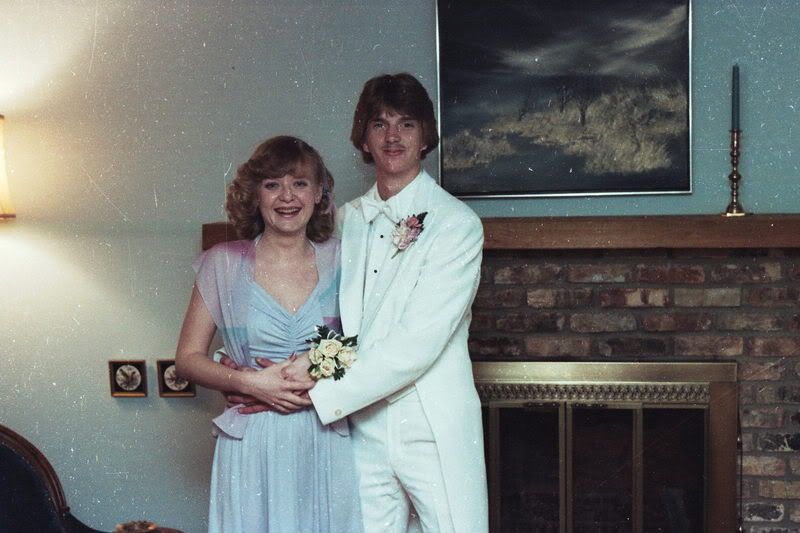 Have a great week!